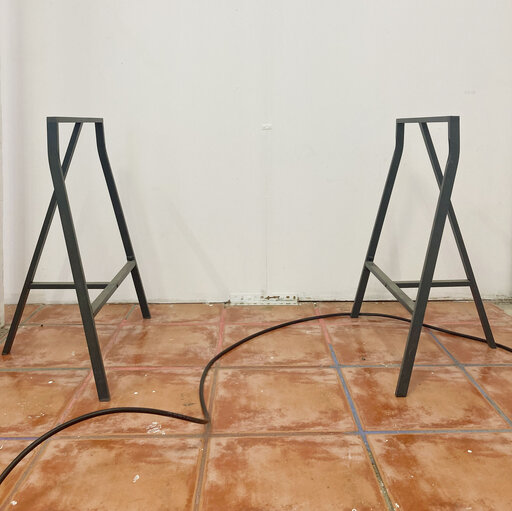 new residents

we welcome the two new artists in residence at La Escocesa. Both short residencies are the result of the collaboration between La Escocesa and different national and international projects, with the intention of facilitating the mobility between the artists and offering support for the production of their work.
Josephine Lunal is the artist selected in the last REART call for a one-month residency at La Ecocesa. She proposes creating a series of text objects that will be sculptures and editions. The series will be inspired by weaving (in the textile and anatomical sense of the word) to reinvent the book through the notions of networks/interconnections, weaving/mesh, layers/pages; like a mille-feuille. Each piece in the series will be composed of bioplastic, ceramic and text. The whole composition, an assemblage of fragments, will form a network, a constellation. The superimposed layers will play with transparencies, between the veiled and the unveiled, on what is hidden or exposed to view; thus forming an invitation "to see through and let yourself go through". She will evoke the skin, which is for her the organ of the relationship par excellence insofar as it is an interface with the other, enveloping completely, as a periphery, a porous border between oneself and the world.

Maya Pita-Romero is the artist selected in the last joint co-call for residencies La Escocesa - Matadero Madrid 2022 for a two-month residency at La Escocesa. Her project deals with the constant questioning of our relationship with nature, which she channels through different artistic languages and practices. From the transformations of ecosystems and links between organisms, she imagines new non-anthropocentric models of coexistence. Organic elements and biomaterials build works that change, ferment and decompose over time.