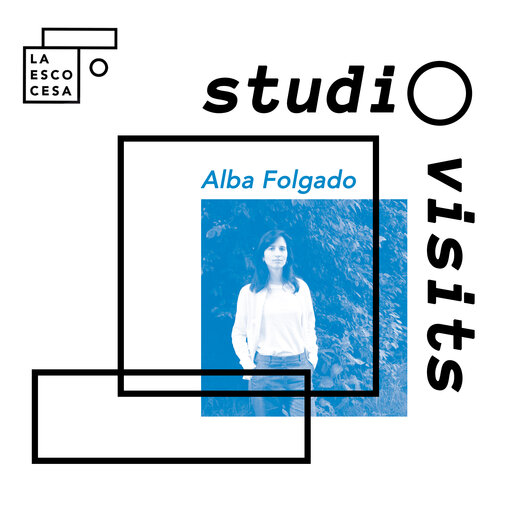 Dates:
17 May 2022 10:00 - 13:00
Studio Visits
The Studio Visits programme has been created to promote and make visible the work of La Escocesa's resident artists and to activate a space for professional exchange based on hospitality and dialogue between artists and curators. As a way of taking advantage of the flows and resources that are constantly moving in the so-called art world, each month we will invite various agents working in the local context or passing through Barcelona.
These visits are also a pretext to talk about working conditions in the art sector and to think about issues related to professionalisation, sustainability and the generation of related networks.
Next visit: May 17, 2022
Alba Folgado
Independent curator and winner of the SAC International Curatorial Residency Program 2022. Her practice addresses socio-political issues with a focus on critical and counter-hegemonic perspectives of protest. One of her latest projects, My Friend is Here (curated with Carlota Mir), explores and problematises the legacy of long-standing feminist collective practices such as self-awareness groups. Alba has worked with international institutions such as Moderna Museet in Stockholm, Konstfrämjandet in Sweden, Centro de Arte Dos de Mayo in Madrid and Stedelijk Museum in Amsterdam. Recent curatorial projects include collaborations with Konsthall C in Stockholm, Meetfactory in Prague, CentroCentro in Madrid, Gasworks in London, Uppsala Konstmuseum, hablarenarte in Madrid, JA.CA in Belo Horizonte and Meno Parkas in Kaunas. She holds an MA in curating from the Royal College of Arts in London, a BA in Fine Arts from UCM (Madrid) and has participated in the curatorial research programme CuratorLab at Konstfack University in Stockholm. Between 2016 and 2017 she received a grant from the Botín Foundation for curatorial studies and is currently a member of the board of Visual and Performance Arts in Uppsala (Sweden).