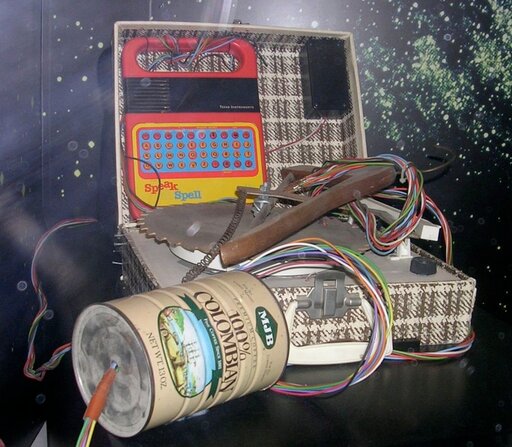 Dates:
31 May 2022 17:00 - 20:00
14 June 2022 17:00 - 20:00
5 July 2022 17:00 - 20:00
12 July 2022 17:00 - 20:00
13 September 2022
Demos la corriente
In 1982 my niece with the initials E. T. tried to perform The Calling, also known as paraconnection or electroexorcism, by placing a telephone, a small saw, a hanger, a blender and a spell machine in a microwave. The detonation not only incinerated the tip of his nose and his left lobe, but also swept away his dreams of energy expansion forever. It is for this reason that now - present time, year 2022 - our team strives to instruct people eager to learn the basics of electroacoustic instrumentation while avoiding unnecessary trauma.
Demos la corriente is a series of workshops on the maintenance of electroacoustic equipment and how to get the best possible performance out of it. Here you will learn how to use the factory's sound equipment, set up effects sets, make contact microphones, make field recordings and get to grips with the basics of audio post-production.
Here you will learn step by step how to get the most out of the instruments and tools available at La Escocesa. You will know where to take them, how to move them, how to distribute them in the space without causing annoying noises and interferences. You will learn about the mixing desk, essential for connecting various devices, with which you will be able to design sound installations, sound visual works, amplify presentations, workshops, concerts, recitals, performances. You name it. You can set up different channels for your computer, microphones, controllers, musical instruments, acoustic and electro-acoustic instruments. Everything you connect to the desk can be recorded via the stereo outputs provided. And, of course, you will know which cables to choose for different connections.
This series of workshops was designed among all the people who collaborate in Demos la corriente, so that learning about the factory's electroacoustic instrumentation is as rich as possible. The sessions are not stand-alone; in order to get the most out of this series of sound experiences it is essential that you first familiarise yourself with the equipment we have. Knowing how to connect, amplify, record and listen to yourself at each stage will help you to understand the resources that will be presented to you. What you learn to do at the mixing desk in Session 1 will be vital for processing what is transmitted to you in the post-production and sound capture sessions in Session 5. Concepts such as gain, channel, equalisation, panning, input, output, effect, are constants in the field of sound. Consider, moreover, that building a cable and a microphone, apart from dazzling you with the principles of piezoelectricity, will open up an unsuspected world of experimentation and sound creation.
Plug in correctly. Light with love. Let the current in.
The workshops will be facilitated by Natalia Domínguez, Simón Williams, Johnny Lhyngam, Mercè Jara and Roberto Contador.
This activity is part of the Rebost programme. This new programmatic line is an opportunity for the whole community of La Escocesa to think and propose proposals and to carry them out within the creation factory. With a fixed budget, it is the artists themselves who decide what and how to spend the money in relation to the execution of the programme. The programme is seasonal and many of the activities will be open in the neighbourhood and will have an educational component.
SCHEDULE:
All sessions will be happening from 5pm to 8pm.

SESSIONS:
Session 2: Tuesday 31st May and 7th June. Microphones and cables. For this session the group is limited to 6 people, for this reason we offer two groups.First group. Make your own contact microphone. Taught by Mercè Jara.
Session 3: Tuesday 28th June. Microphones, loop recording and effects pedals. Obtaining a WAV track. Taught by Robero Contador and Mercè Jara.
Session 1: Tuesday 5th july. Use of equipment. How to move amplification equipment, heavy equipment. Positioning it, switching it on, cleaning it. How to use the sound table and how to affect a contact microphone by means of effects. Taught by Roberto Contador.
Session 4: Tuesday 12th July. Audio recording and post. Taught by Simon Williams (Sunny Graves). Musician, producer, sound artist, dj and sound engineer with Latin/British roots based between Barcelona and London. His processes traverse a wide spectrum of forms and sounds, freely exploring the sonic territory that lies between the concrete and the abstract, transcending stylistic/temporal/geographical limitations, and activating the potentials of medium and space. His work under the name Sunny Graves has led him to perform at international events and festivals including Sónar, Primavera Sound, Mutek, Mira and LEV.
Session 5: Date to be confirmed in September. Nat D radio programme production process. Taught by Natalia Domínguez.
REGISTRATION
Maximum groups of 16 people.