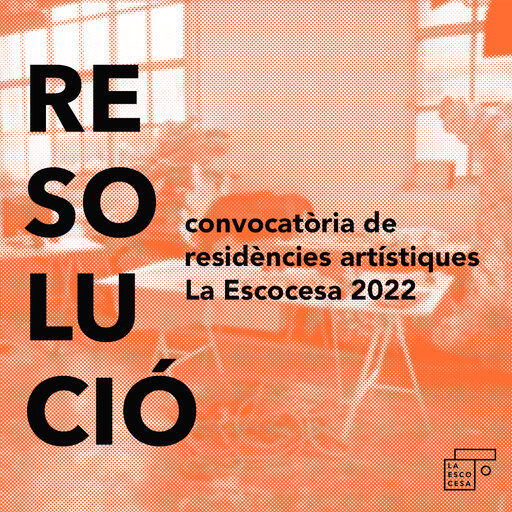 open call for artistic residencies La Escocesa 2022
We finally resolved our artist in residence program open call!
The jury panel, composed by Lucía Piedra y Lola Lasurt as external representatives, Silvia Renda and Natalia Domínguez as internal representatives and actual artists in residence, and Alba Colomo, the director of La Escocesa, want to underline the high quality of all the proposals.
The final decision, among the more than 90 applications, followed the criteria established on the open call instructions and selected a total of 23 artists, who are specified below:
A1. 1 year residence for new members
January – December 2023
Helena Civit
Selma Khadija
Rosa Lendínez + Luna Acosta
Christos Papasotiriou
Irina Russell
Teknodrag: Feña Celedón, Luciana Chieregati, Sara Manubens y Lyn Diniz
A1. 2 years residence for actual members
January 2023 – December 2024
Paula Bruna
Natalia Carminati
Dennis Dizon
Julia Aurora Guzmán + Michael Lawton
Antoni Hervas
Helena Vinent
B. 1 year research residency
January – December 2023
Matilde Amigo
Laura Arensburg
Julia Gorostidi
Andi Icaza
Caterina Miralles
Sofia Montenegro
Agustín Ortiz
Carolina Sourdis
Sonia G. Villar
Congratulations to all the selected people!